Blues Power featuring Cardinal Black, Troy Redfern and Brave Rival
Thursday 7th December 2023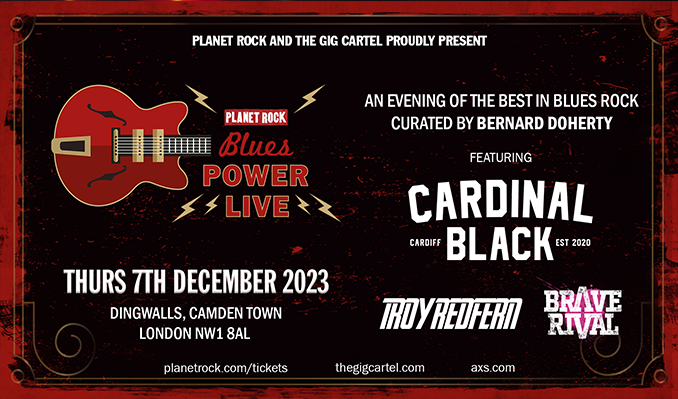 Doors at 7:00pm
Blues Power Live – Cardinal Black, Troy Redfern, Brave Rival Planet Rock Radio, the UK's number one Rock and Blues radio station brings you a new live event in conjunction with The Gig Cartel. The event is called 'Blues Power LIVE' aptly named after the radio stations flagship Blues show, and is hosted and curated by none other than the Blues maestro himself; Bernard Doherty.
This, the second show features the top touring acts from the world of contemporary blues rock, old school blues, and future breakthrough talent / the most hotly tipped, up and coming acts in the genre.
Cardinal Black
'We're the oldest new band in the world.' – Chris Buck, Guitar / Cardinal Black They say that good things come to those who wait. A little over a year after their launch, you could say that Cardinal Black are testament to the power of patience, thought and persistence. A debut #1 single and E.P.; a first gig to a hometown capacity crowd at Cardiff Castle; back-to-back sold out Academy tours with Myles Kennedy, then The Struts; a highly-anticipated debut album, heralded by a live set recording in the Beatles' legendary Studio Two at Abbey Road in London. An eventful 12 months for any band. It takes years, so the saying goes, to become an overnight success…
After announcing themselves with debut single 'Tell Me How It Feels' in May 2021, it was less than 24 hours before the track toppled Noel Gallagher's High Flying Birds to take the #1 spot in the iTunes Rock Single Chart. Their 4-track eponymous E.P. quickly followed, also claiming the #1 spot on both the iTunes Rock Album Chart and Amazon Rock Best Sellers Chart. The debut album 'January Came Close' was released on October 28th 2022 and within 24 hours had also reached #1, this time on UK's Amazon Album Chart – besting Taylor Swift's new album in the process. In November, the band were tapped by guitar icon Peter Frampton, joining him on his Farewell UK tour and playing to capacity crowds including London's prized Royal Albert Hall.
They may have taken the scenic route but Cardinal Black are finally here, and they've got plenty of stories to tell.
Troy Redfern
Troy Redfern is a passionate, intense, free spirited blues rock artist whose ferocious slide guitar style twists and turns timeless themes and ideas to his own ends. The protean slide guitarist leads his power trio with style, gusto and virtuoso playing that fuses spontaneity with real craft. Redfern combines the rawness of Hound Dog Taylor, the freeform approach of Sonny Sharrock, the firebrand playing of Johnny Winter and the technique of Dave Hole with the ghost of Elmore James.
Brave Rival
rave Rival are the South East's rip-roaring rock and blues machine. Hailing from Portsmouth, the UK Blues Award Nominated band features the powerful and beautiful twin vocals of Chloe Josephine and Lindsey Bonnick. On lead guitar, providing dramatic guitar solos and crunching rock riffs is Ed "The Shred" Clarke. And holding it all together is the rhythmic backbone, the self-proclaimed engine room of Billy Dedman (bass) and Donna Peters (drums).
Drawing influence from the likes of John Mayer, Aretha Franklin, Heart, Fleetwood Mac, Led Zeppelin and Tedeschi Trucks, Brave Rival offer a style and sound that you've always known, and yet never heard before.